First look of Lalbaugcha Raja 2015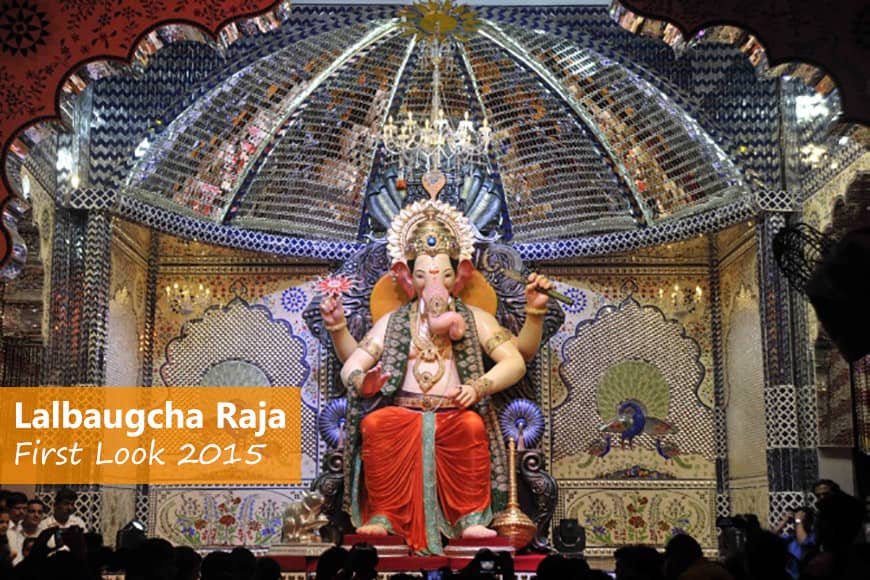 ---
---
While every corner of Mumbai will see Ganpati Mandals with large and small innovatively carved out idols, Lalbaugcha Raja is one of the oldest. It was founded in 1934 and sees a large turnout since this idol of Lord Ganesha is considered 'Navsacha Ganpati', this means "the fulfiller of all wishes".

Kambli Arts based in Chinchpokli has been making the popular idol since 1935.

Organized by Lalbaug Sarvajanik Ganeshostav mandal in Mumbai, preparations are in full swing for the 11-day Ganeshotsav. Over 1.5 million people visit this Ganesh Pandal daily during the 10 day Ganesha festival.
2015 sees Lalbaugcha Raja in a new look. It has a dome made of glass. This intricately put together glass dome reflects lights giving it an ethereal look. It adds to the aura and mystic of this most popular Ganesha.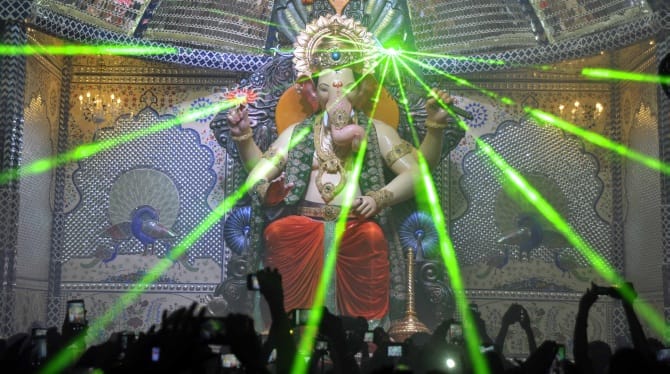 Reference: http://www.rediff.com/news/report/first-darshan-lalbaugcha-raja-returns-to-mumbai/20150911.htm
Looking at this grandeur makes one feel that Ganesha is sitting in a palace made of glass in an era past gone. This set has been put in place by Bollywood art director Nitin Chandrakant Desai. In fact, the set was first designed for the Salman Khan film Prem Ratan Dhan Payo, reports The Times of India. After Ganesh Festival 2015 is over, it shall be dismantled and taken to the sets of the film again.
Nitin Desai told TOI about the Lalbaugcha Raja 2015 sets, "Artisans from Udaipur, Jaipur and Agra have carved the 620-foot set using Belgian glass, and concave and convex mirrors. Each segment was laboriously turned to a specific angle to reflect the Raja's image, and to throw the light of the classy chandeliers that will be hung overhead."
Every year I visit Lalbaugcha Raja and find its appearance enchanting. This year's new look of Lalbaugcha Raja is tempting me to visit the Mandal on the first day itself. More later on this blog describing details of my darshan on the first day at Lalbaugcha Raja.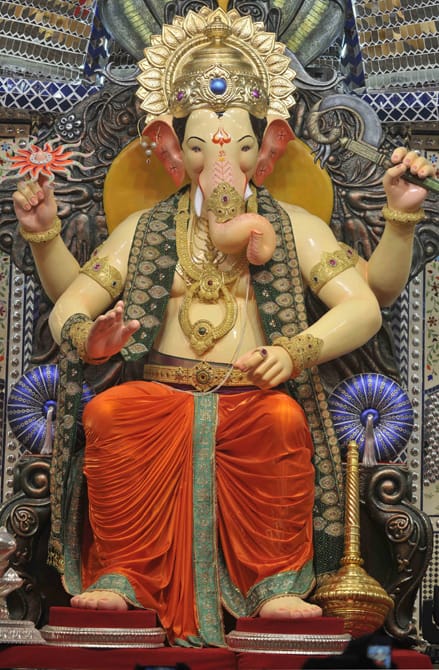 Ganpati Bappa Moriya.
By Shivani Parikh (Ganpati.TV Team)
Ganpati.TV Team
The team works hard to provide you useful information. Team also manages all content submitted by our users. If you like, please take a minute to share it on Social Networks.
---
---