Best Home Ganpati Decoration Contest for year 2015.
We are happy to announce that this year we are introducing 2 more prize categories apart from Best Home Ganpati Decoration.
View List of Contest Winners for year 2015
Additionally, We also would like to inform, that this year Prizes have been sponsored by Bhoomi Group & Arkade Group and we request you to visit their website to know more details about our sponsors. They helped us to make it possible.
www.inacropolis.com – Their upcoming project called Acropolis in Virar having 1, 1.5, & 2 BHK Flats with a Jackpot Offer on Buy 1 Flat Get 1 Flat Free*

Ganpati.TV Receives close to 3 Lakhs+ Unique visitors opening in total of 7 Lakhs+ Pages in just period of 3 to 4 months.
We being a small team, invest lot of time and money to build this portal and host on powerful servers with fast internet so every visitor comes to our website can get lot of information at faster speed.
NOTE: We only allow Home Ganpati to participate this year in Contest. If you registered as Group or Mandal Ganpati, you will still be able to send us pictures but not take part in Contest.
Best Home Ganpati Decoration Contest 2015 Prize Categories
Past 2 years we were only giving 1st, 2nd & 3rd Prize, however this year we bring more categories. And we are really excited to start receiving all pictures from 17th September onwards. 14 Trophies have been booked to order for our winners when finalized this year.
1st, 2nd & 3rd Prize For Best Home Ganpati Decoration – Cash Prize + Trophy + Printed Certificate
Prize to 1 Best Eco Friendly Ganpati Decoration – Trophy + Printed Certificate
Prizes to 10 Best Ganesh Murtis – Trophy + eCertificate
Additionally, Participant eCertificate will be Emailed to everyone who participated which they can print.
We have a Panel of 4 Judges who would be deciding the prize winners on basis of multiple grounds and their decision will be considered final.
How to Apply in Best Home Ganpati Decoration Contest 2015
Like always, we like to keep contest rules simple as we believe in simplicity. Also note that it is not possible for us to visit every participants house, as we receive hundreds of entries. We organize this contest based on Trust and Faith. Please do not send Fake or Old photos, or Photos of others which are not yours. Finding such entries will result in Account Deactivation.
To take part this year, simply Register with us:Please visit http://www.ganpati.tv/register/ to register for free.

Note: Do not register multiple accounts, it will be of no use, as our System is quite capable to identify such entries based on pictures received.

You will receive Welcome email with verification link to verify your email account, once verified, you can login to your account.
After you login, Go To Profile Details from left side menus, and update your profile details.
That's it. You are registered for Contest 2015.
When you bring Ganpati at Home, you can click pictures (minimum 3 pictures) and simply email us from the same email account you registered with. Email ID to email us pictures – contest@ganpati.tvNote: If you email from a different email address which is not registered with us, the entry will not be accepted.

To click nice pictures with your camera, or mobile, we have created Tips which you can read at:

Photography tips to capture perfect moments of Ganesh Chaturthi
http://www.ganpati.tv/photography-tips-to-capture-perfect-moments-of-ganesh-chaturthi/

Once we receive pictures, we will publish it in your account page nicely and email you details which you can share with friends and family or on facebook/twitter.
Goodluck and Best Wishes from Entire Ganpati.TV Team & our Sponsors.
Contest Dates
Last Date to Participate & Submit Pictures is 2nd October, 2015
Winners will be declared on 4th October, 2015
Every Participants will be notified via Email/Phone.
Details about our Sponsors
---
Bhoomi Group
Bhoomi Group was formed in 1990, servicing the commercial, industrial and residential markets of the Indian west coast.
"Our approach is uniform: uncompromising quality, commitment to client satisfaction and personal attention to relationships with everyone we work with."
Bhoomi Group's expertise ranges from office blocks to shopping centres, residential developments, re-developments & TDRs. Our successful performance in this sector is supported by already developed 5 million square feet of residential & commercial projects and the major players in the industry who have recommended Bhoomi Group's ability to deliver.
Arkade Group
Arkade Group is one of the leading realty firms of Mumbai. Constantly working towards keeping up with changing times, we're better equipped to meet changing demands. Driven by dedication and determination, we make sure that excellence is reflected in all our endeavours. With a strong belief in our motto 'the future is now', we make it a point to stay ahead of the curve. Till date we have developed over 2 million square feet, with another 2 million being under construction.
Acropolis
Acropolis – A luxurious project crafted by two elite groups of Bhoomi & Arkade. Located in soon-to-be central hub of Virar. Surrounded by Environment filled with Fresh air, greenery and open spaces. Also having all major banks, colleges, entertainment park (Yazoo park) nearby. Project has leisure zones that encourage community living and personal wellbeing. The Acropolis township is located on the 120 ft Vasai-Virar link road in the upcoming cosmopolitan suburb of Virar, Mumbai's northern gateway.On the one hand you have large open spaces, expansive mountainscapes and picture-postcard sea views. On the other mushrooming development with reputed educational institutions, fab shopping and entertainment zones.Acropolis is home to an array of towering residential buildings, with a series of 1, 1.5 & 2BHK apartments that are filled with comfort and conveniences.
www.inacropolis.com – Their upcoming project called Acropolis in Virar having 1, 1.5, & 2 BHK Flats with a Jackpot Offer on Buy 1 Flat Get 1 Flat Free*

Thanking You,
Ganpati.TV Team
Ganpati Bappa Morya & Happy Ganesh Chaturthi.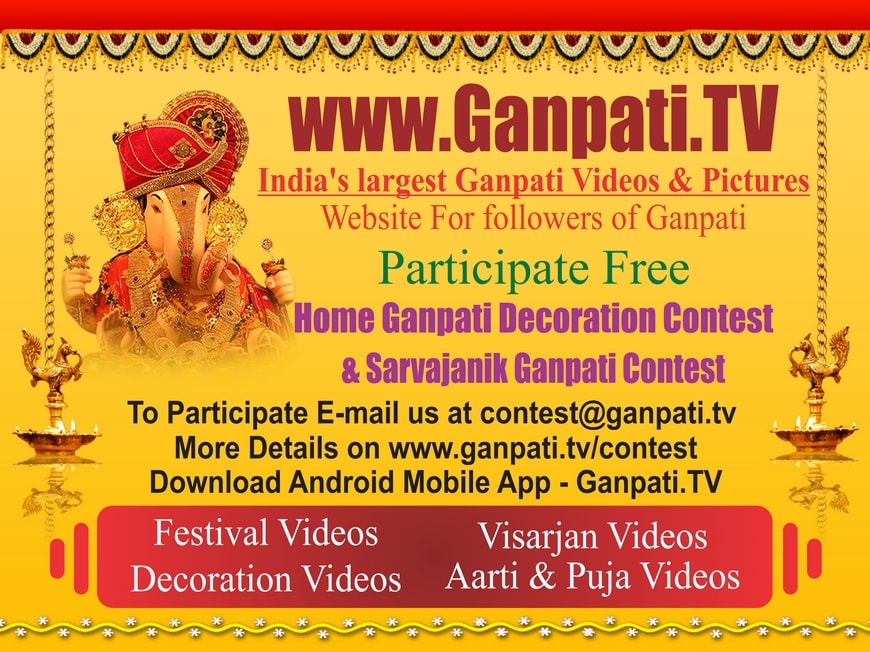 Best Home & Sarvajanik Ganpati Decoration Competition (Contest)
Register for Home & Sarvajanik Ganpati Decoration Competition 2022 for free. Click below to know more.