Ganpati.TV Team & Introduction
Ganpati.TV website was started in year 2009 by Dhruwal Patel and since then it has received great responses from the online visitors.
Initially, it was a static website where pictures and videos were shared related to Ganpati Festival each year. In year 2013, based on the positive feedbacks, the website received more updates and since then, for the first time it started organizing Ganpati Home Decoration Contest which was one of the largest online event of its kind. We had over 500+ participants from various part of India and other Countries too in year 2013. Year 2015, saw the website received a brand new system turning it to an online web portal for our users. Further details on the updates can be found here at Ganpati.TV Portal Updates.
That said, after running the contest for the 3rd time in a row, we received incredible responses from the online viewers. Today, we take immense pride in maintaining quality of our portal rather than focusing solely on quantity. Because of this, it is a great pleasure to inform everyone that Ganpati.TV portal this year, 2015, reached its mark of over 1,600+ participants online. Our participants are not only from India, but also include USA, UK, Australia, Dubai, Oman, Mauritius Island and from other international destinations, thus, thereby spreading the Indian festive culture.
Our list of winners this time included participants from outside India, these takes our contest on a World Wide Level. We have constantly put extra efforts to provide valuable information to our friends and family staying out of India. Our portal this year received more than 8 Lakhs page views within a span of 2 months only, and this also includes pages viewed by over 3 Lakhs unique visitors. No matter what you search in Google Search Engine with related to Ganpati Festival or Ganpati Decorations, our web portal is listed on the first page. We will keep bringing you more and more updates and make this portal more valuable for everyone.
This are the Trophies our Team distribute to Ganpati.TV Contest 2015 Winners, and we again congratulate all our participants.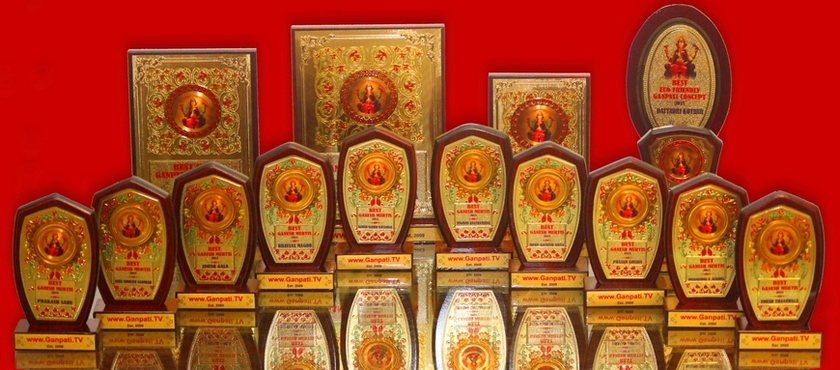 For the first time we are introducing Team of Ganpati.TV below and we thank all our Team Members and Judges for their constant support.
---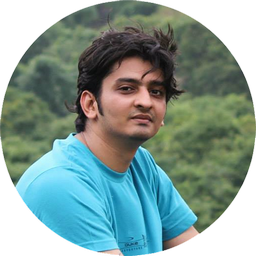 Dhruwal Patel, Founder/Owner & Management
Ganpati.TV which was a dream-turned reality, by Dhruwal was started in year 2009 on a small scale has now scaled it to greater heights in 2015 which was also a remarkable year for him and his entire team.
He completely redesigned entire website based on his vision, and more importantly suggestions received from our Participants each year. Countless days and nights spent in building the system and making it available for our visitors to have a great experience to celebrate Ganesh Festival. Ganpati.TV being the only portal which helps our visitors with hundreds of ideas which comes from Ganpati.TV team and our contest participants each year. His dreams doesn't ends here as lots of new updates have been planned for the portal throughout the year.
Dhruwal comes from an Information Technology background with 14+ years of experience which includes Computer Hardware, Computer Networking (Data Center Level), Software/Websites Development, Systems Architecture, Computer Security, Social Media Marketing, Internet Technology Management, and much more. Travelled to USA multiple times on business trips to help clients and setup various IT equipment's in Data Centers. Before he started his career in IT, he worked on various Electrical and Electronic Projects.
When he is not working, he loves canvas painting, charcoal sketches, photography, to explore new online technologies, creating electronic projects, travelling, etc.
---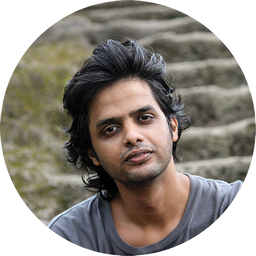 Sameer Mahavir, Outdoor Activities & Marketing
Without efforts of Sameer, our outdoor activities would not have been possible. He puts genuine efforts to make things happen in a correct direction. He believes in getting things done today rather then doing it tomorrow. He helps our Portal by taking care of physical outdoor activities like getting Banners done, making sure leaflets are distributed, assisting Dhruwal with Photography and much more. He also helps Management team in various tasks and keeping track of everything.
Sameer being an Artist – Percussionist, comes from a family of Great artist and musicians. To name few of his performances, he has performed at IPL Opening Ceremony 2011, Performed for Mumbai Marathon, Performance for Launch of Motorocker, Performed for Opening Ceremony ISL 2014 & 2015. Has also performed at Kala Ghoda Festival, 25th Memorial Concert at Prithvi Theater, etc.
Apart from his Live Performances, he has also played for songs in various movies like All The Best, ABCD 1 & 2, Dhoom 2, Goal, Happy New Year, Arjun, Welcome Back 2, Bhootnath Returns, Singham Returns, and many more.
He is part of Band called Taufiq Qureshi's Mumbai Stamp Group.
From his busy schedule he regularly spends lots of days working for our Ganpati.TV Portal dedicatedly.
Sameer loves to explore several musical instruments and create music. When he is not working, he enjoys sports and travelling.
---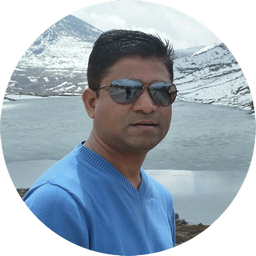 Kalpesh Patel, Management & Operations
Every event needs a great management and operations head and this is where Ganpati.TV uses skills and knowledge of Kalpesh, who has 15 years of experience in various fields. Being the key person of our team, he keeps entire team in focus. His motivational skills has helped our entire team to progress towards right directions. Apart from that, Kalpesh also helps promoting the portal towards advertising via different mediums, further helps to maintain the quality of the portal, thereby boosting the creativity of our team.
Kalpesh has been instrumental in managing, the portal to take it to the next level. When he is not working on Ganpati.TV portal, he dedicates his time to work on various similar projects on same line
---
Other Members of Ganpati.TV Team
Ganpati.TV Team also includes few Content Writers who assist in maintaining and writing valuable information for our viewers. We also have few Marketing & Advertising Partners who assist us to spread the word about our website.
Additionally, we have a panel of 5 Judges who help us to select the Winners for the Contest. They come from variety of background and cultures. We never disclose our Participant details like Names/Contact Details to them assuring a fair judgment is done.
---