10 Simple Ganpati Decoration Ideas for your home – Part 2 (5 Ideas) + 2 Ideas Bonus

---
---
हा लेख मराठी भाषेत वाचा ગુજરાતી માં આ લેખ વાંચો
Last time we shared 5 Ganpati decoration ideas for your home hoping everyone liked it, and indeed it was viewed by lots of visitors. We now share the other 5 ideas which surely may come handy and useful to everyone.

These ideas also focus towards eco-friendly ways which can help us to take few initiatives towards global warming.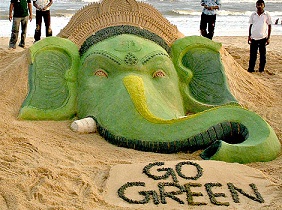 Again these ideas are easily doable and also cost effective and can be achieved under low budget as well and in less time giving you chance to show your creativity. Here are the remaining ones plus 2 ideas as bonus.
6. Home Ganpati Decoration with Fresh Flowers Daily
Do you have fresh flowers market nearby? If yes, then you can take lot of advantages of flowers. They not only make the place look colorful but also add a natural beauty and most importantly brings great freshness with its smell and gives a true touch to the festival.
You can change the flowers every morning making it look fresh every day. You can use these flowers for decorating surroundings of Ganpati Idol. The flowers can also be used to make designs with different colors and styles.
If you do not have such easy ways to get flowers, then not to worry. There are many local shops which sell artificial flowers which look same as natural flowers. Though they may cost a little more, but you can still have the more or less same effect like real ones.
7. Available Scarfs, Dupattas, Chunris, and other colorful piece of clothes.
Usually we always have some piece of colorful clothes which we can use for decorations. If there are any female wears available at home or if can also be borrowed from friends or families then we can see if anything from those can be used if they are nice and colorful.
This can be either scarfs, colorful Dupattas, Chunris and or any other material which may match the theme of your decoration. You can always mix and match to see how they look. Remember you still need to add few layers of other decorations along with them like flowers or lights or even ribbons so it can give few finishing touches.
8. Colorful Rangoli designs with Colors and Fresh Flowers
Rangoli designs have always been a part of Indian festivals. It makes the surroundings so colorful giving everyone the feel of festival.
Many people make use of beautiful rangoli's as part of their decorations. Many designs related to Ganesh Chaturthi can be made.
You do not need to be a professional, even a simple design following the borders of the walls or near the doors will bring beauty to the room, and it will always be appreciated by your loved ones.
Many different colors are available which you can use if easily available to buy, if not then take a look in your storages if you have any colors left from last year's Diwali festival. You can also use fresh flowers to make rangoli designs everyday if possible. Idea is to use a colored writing chalk and drawing the design and simply place fresh flowers on top of it every day. It will truly make things look fresh and beautiful around.
9. Electric lighting garlands and Diyas
Indian festivals are not complete without having lights around. They are not only part of decorations but also bring beauty with lights to the surroundings.
Lots of different kinds of lights are available for you to use. They come in various different ways like garlands, electric diyas, flash lights, etc. Did you buy lighting series garlands last year in Diwali? Great, why not use that if you have it. Take it out and see if it matches with your decorations. But make sure you do not over use it as it should not look like Diwali festival, we still need to maintain decorations theme as per Ganpati Festival.
You can also use diyas for decorations, and place them nicely between flowers to give a nice finishing touch to your decorations or rangoli's.
10. Eco-friendly decoration materials
Due to increase in global warming, everyone should put some efforts to find good options as an alternative for having eco-friendly Ganpati decorations which can not only bring beauty but can also save from using materials which cannot be recycled or can harm to our environments and our mother nature.
If you are good with making things in autistics ways, you can try something like this too to make great designs. Notice the things used are easily available in your kitchen.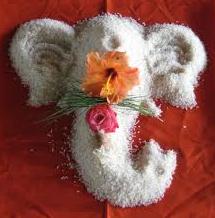 11. Glittered decorative garlands
We can also use shiny decorative materials if we have proper lighting done which can make it very colorful. These are also readily available in shops which may have been selling decorative items.
Did you buy decorations for last Christmas? Great, see if you can use anything from it, I am sure you can use most of it, if you are creative enough. After the festival is over you can again re-use them.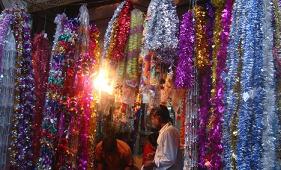 12. Decorative things from your showcase or cupboards
Many times it may happen that lots of things in your house can be used for decorations though we are mostly unaware thinking either we have it or how can we use it.
Do you have anything seating in your cupboard or showcase for a while? Take a look if you can use it.
Lots of things are usually there like a flower vase which can be used to put fresh flowers, any hanging pot styled vase which can also be used. Any particular show piece which can be used by sticking or tying ribbons or shiny decorative garlands or flower garlands, etc. around it. It's just a handy option which you can see if it works matching your decorations.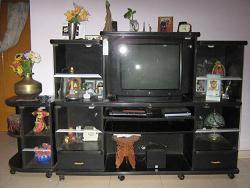 If you enjoyed reading the article, please leave a line of comment.
Link to Part 1 of this article – 10 Simple Ganpati Decoration Ideas for your home – Part 1
Ganpati.TV Team
The team works hard to provide you useful information. Team also manages all content submitted by our users. If you like, please take a minute to share it on Social Networks.
---
---