10 Simple Ganpati Decoration Ideas for your home – Part 1

---
---
हा लेख मराठी भाषेत वाचा ગુજરાતી માં આ લેખ વાંચો
Every year we celebrate the festival of Ganesh Chaturthi and we bring Ganpati Idol at our home. On this auspicious day we decorate our home with different ideas to make it beautiful, colorful and pleasant to please the Lord Ganesha.

We all search and look for different ideas to decorate our home for Ganpati Festival. Sometimes we simply buy readily available options and sometimes we want to be creative and do something different in our own way of decorating things. There are lots of ideas for decorations at home but we run out of those on time when we really need to use them.
We try to bring you few of the ideas which can come handy to you with small things, at least to give you a head start. Below we have mentioned few ideas which can help you to get started. These ideas are easily doable and are also cost effective and can be achieved under low budget as well and in less time.
1. Use of Thermocol sheets and pillars of different size and shapes
UPDATE: We urge everyone to not use Thermocol as it can harm our environment. Try to use eco friendly ways if possible.
Thermocol sheets are very famous and most commonly used for Ganpati decorations to build small temples or pandals (mandaps). They come with many different sizes and shapes which can be used to make decorative walls or pillars holding those walls. If you are in short of time, then many local shops already have built temples and designs beautifully crafted and come with artistic designs. It can save you a great deal of time and sometimes money too.
2. Use of Thermocol balls soaked in water colors or fabric colors
Thermocol balls add a touch of creativity to the decorations especially if you are planning for some great Ganpati decoration theme for your home. They usually come in colors if not then you can always buy bottles of water colors of bottles of fabric colors and soak them in a bowl full of color mixture and then let them dry on a newspaper or any flat base. To use them simply apply glue on the surface or walls where you want them and simply try to stick handful of balls over it.
This colored balls can also be used for making designs or rangoli's as long as you glue them properly, you don't want them flying around.
3. Use of Water Spray bottles to spray paint decorations
If you are planning to make pandals yourself using Thermocol sheets, then you can use spray bottles filled with colors to give a great effect with different shades. If you are having low budget for decorations, then this is a great way to still make beautiful pandal decorations.
These bottles are easily available and can be used with slightly thick color and water mixture and then spray over Thermocol sheets or pillars.
4. Decorative Ribbons and Laces and Borders
Being readily available at your nearby stationary shop, this ribbons and laces can be used to decorate many things in different ways. They come in various colors including shiny and glittered styles or layered.
They can be used to decorate borders or can be tied around the pillars of the pandals to give a great bordered style finishing. This can also be used to make borders on Aarti thalis (plates) which will make it look very colorful.
5. Decorated Thalis for Aarti (Puja)
Many people also prefer to decorate the Aarti thalis in different ways to make it look more colorful and match the style of pandal decoration.
There are lots of ways to decorate it but there is no limit on how creative you can be. We can use all kind of things including flowers, colors, Thermocol balls, rice, and other colorful things.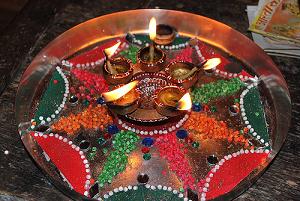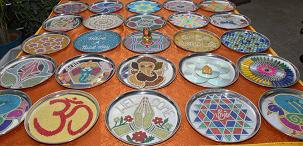 If you enjoyed reading the article, please leave a line of comment.
We will soon make 10 Simple Ganpati Decoration Ideas for your home – Part 2 (5 Ideas)
Update: Link to Part 2 of this article, click here
Ganpati.TV Team
The team works hard to provide you useful information. Team also manages all content submitted by our users. If you like, please take a minute to share it on Social Networks.
---
---