Top Eco Friendly Ways to Decorate Ganesh Puja Pandal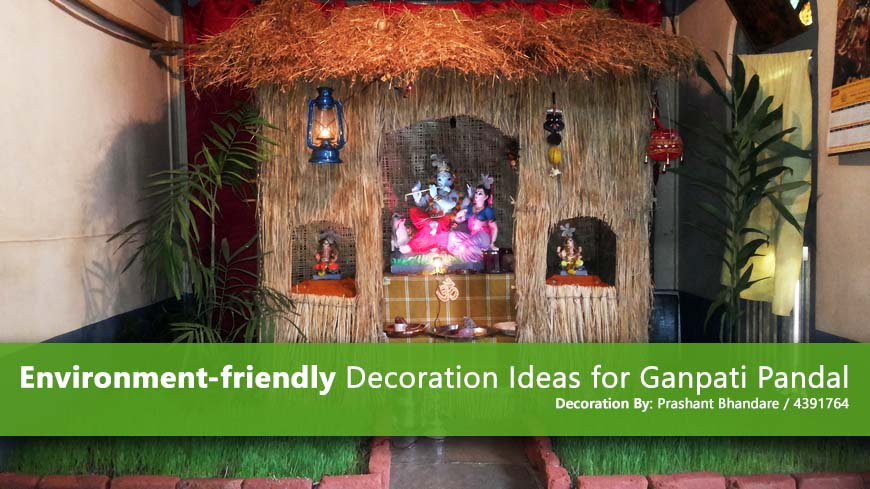 ---
---
Now that you just have only less than ten days in hand for the celebration of Ganesh Chaturthi, it would be better that you take time out and go thinking of plans to have your own decoration for your pandal for the Vighna-Vinayak at your home or in your community.

Ganesh Chaturthi is one of the most important festivals in the month of Bhaadra Padh, and since Lord Ganesha has devotees across the country, the festival is celebrated with great gusto all over.
Ganesha is the elephant God who is the first God that comes to our mind when we begin any task as He has been said to remove all obstacles from our path. He is a God of success and prosperity too and hence, Ganesha Puja on the Chaturthi will be a very important one for all.
Environment-friendly Decoration Ideas for Ganpati Pandal
Though everyone thinks of making bigger and taller idols for their community pandals or even for their homes, do keep in mind, that God will be happy if the puja is done from the heart without any vanity.
Let us look through few ideas to try out this year for decorating your Ganesha in eco-friendly manner.
Natural flower pandal and decoration: You can go through the market and shop for beautiful flower bouquets and have them fixed on a bamboo frame to make them look like a pandal. The entire look would be a very fresh one and added to that, make sure that the home or the pandal remains smelling good so spray rose water or flower essence now and then or sandal water sprayed to make the pandal smelling heavenly.
Cloth buntings and hangings for decoration: You can use net or tissue textiles to be hung across the ceiling like roof of a pandal. You can also have them decorated with false flowers to make the decoration look bright and indeed wonderful.
Natural color decorations: Trying to make rangoli out of natural colors or even painting the Ganesh idols with natural colors instead of the toxic colors would not just give your Ganesha a new look, but also make sure that on immersion, the toxic paints would not damage the environment or pollute the waters.
Painting or handmade paper art: This is possibly one of the best and the most beautiful ways to deck up Ganesha pandal and you can try having paintings as background or even simply arranging handmade papers that come in various colors and textures that give brightness to the background. These papers would not cause any harm to the environment or waters when they are immersed.
Bamboo mat huts: One of the finest and the greenest ways to decorate your Ganesha pandal is by recreating a hut made out of bamboo mats. These can give the effects of a village thatch hut and just have a small Tulsi plant outside the hut to give it an ethnic feel.
Now that you have got these ideas for decoration, do remember to use them and of course, keep in mind to keep the environment clean at all times where Ganesha resides.
Ganpati.TV Team
The team works hard to provide you useful information. Team also manages all content submitted by our users. If you like, please take a minute to share it on Social Networks.
---
---