Top Amazing Visual & Audio Effects for Ganesh Chaturthi Festival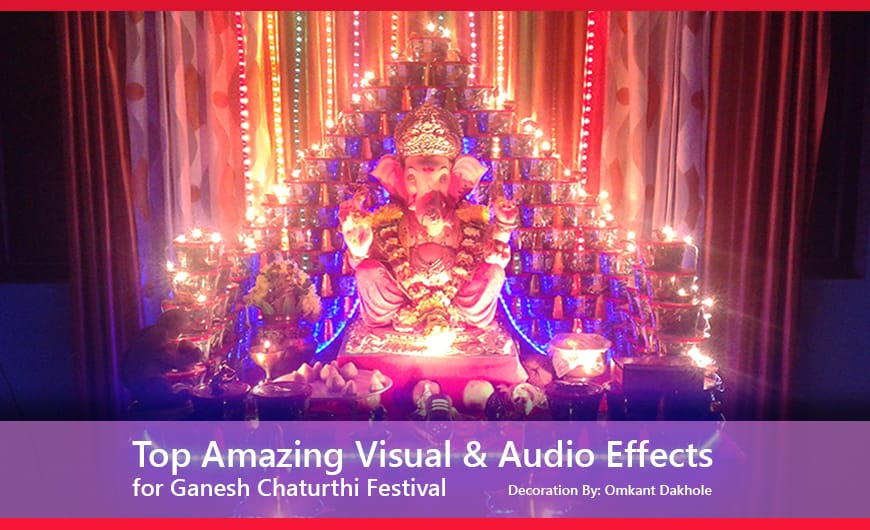 ---
---
Ganpati Bappa Morya, Mangala Murti Morya! Now that we have less than a week in hand before Lord Ganesha, the Vighna Vinayak comes to our home to bless us, we have to think of top ideas for decorating our homes. Many people like to build intricate Pandals inside their homes itself with a new theme every year.

The community puja pandals too do their best to make their Ganesha stay in top class and very attractive pandals made out of many unique things too. Understanding this love to decorate Ganesh Puja, these days there are competitions that judge a home puja or the community Ganesh Puja based on their sound and light effects, along with their themes. Let us have a look at the top ideas to amplify your Ganesh Puja pandal at home or community with bright colorful lights and superb sound effects.
Exclusive Light Effects for your Ganesh Puja Pandal:
Though many people might not have great budget to invest much in making grand pandals, they can still go for adding fluorescent lights, or diyas to amplify the grandeur that Ganesh Puja is associated with these days. So, let's check out the light effects that you can have. You can use the normal serial bulbs or the string of lights like this one here or look below for more ideas.
LED Light effects: The LED lights are inexpensive as compared to other big colored lights. Moreover, they do not consume great energy or power too. You can leave them on all evening and night for superb effects. An example is shown in this video for reference. The lights could change colors intermittently.


Fixed glowing lights: If you plan to have a tree, or a big monument like Eiffel Tower or any temple or any other background piece, as a backdrop for your Ganesha idol, then you could try illuminating it. Fix a light at the base of that backdrop. These bulbs are available at very low rates and to make sure that the background gets illuminated, do keep the room dark when you want the lights on. A look at this video will help you see "light."


Spotlight from the base of the idol: If you do not have much time in hand to do the decoration but can just fix in lights at strategic points, then this is for you.

You can have the spotlight fixed upwards from the base so that the light highlights the Lord from the front. You can have smaller lights doing the same thing from the side too.

Laser Show: Ganesh Chaturthi at home or in community offers you immense chance to play around with your creativity. Laser show is the latest fad and people get mesmerized by its wonder. A look at this video will help you clarify the idea.
Sound Effects that can create magic in the Ganesh Puja Pandal:
Now that you have done all the little unique ideas with the lights, let us try and use few other means to beautify your Ganpati puja pandal. We all love music, and music only adds to the element of transcendentalism to spirituality. Let us try using this music for super sound effects that would make the visitors to the pandal become one with Ganesha and be blessed with good luck and fortune by the God of Prosperity Himself!
OM Chants: OM or Aum has been one of the most effective and widely used meditative chants said worldwide by healers and by spiritually inclined people. The effectiveness of OM is unparalleled. Since Ganesha is the first name to be used before starting any work, the same way, OM is a call to our Atman, and a way to connect with the cosmic consciousness.
Ganesha Aavahan Mantra: Now that you are ready for the Puja, you shall start by invoking the Lord Ganesha and by welcoming Him to your home by chanting this Aavahan Mantra and do the Pratishthapan.

Ganesha 108 Naamavali or Ashtottara Naamavali: A Ganesh Chaturthi Puja is incomplete without the Puja or offering of flowers to the feet of Ganesha while chanting the 108 names of Him! This is as essential for the puja and can be chanted along.

Om Gan Ganapataye Namaha: This is one very powerful chant that can be played continuously on the DVD player all day to give a mystic feel and a holy feeling to the home during the Puja. This chant is very essential for the well-being of one and has a meditative calmness about it. You can find the sound here.
Ganesh Bhajans: The ten day long festival of Ganesh Chaturthi is incomplete with few bhajans now and then that you can keep playing. Singers like Lata Mangeshkar, Shankar Mahadevan have given us some jewels of music that you shall play. A playlist is attached here with some of the most beautiful of such bhajans that you can keep playing all day.
A special mention has to be made to this theme or decoration idea that has drawn my attention. It is a musical light show. The effects are wonderful and if you can come up with something of this sort, then do try it out this year.
Ganpati.TV Team
The team works hard to provide you useful information. Team also manages all content submitted by our users. If you like, please take a minute to share it on Social Networks.
---
---
[/signinlocker]