Magnificent Ganpati Pandals of Pune

---
---
When that time of year comes again, the city is engulfed in Vedic hymns and chants to welcome Lord Ganpati. The time we talk about is the occasion of Ganesh Chaturthi, celebrating the birth of Ganesh, the elephant-headed lord. Cultures and customs, languages and distances become very narrow, when the praise of lord is sung with heartfelt devotion.

Ganesh Chaturthi marks such an amalgamation and union of Hindus around the world and all Indians united in spirit to celebrate this occasion with true spirit.
Magnificent Ganpati Pandals of Pune
Pune has often been bestowed the honor of being a culture capital of Maharashtra for the sole reason of traditional customs and practices still intact amongst the Maharashtrians residing there and a fine blend of modern day practices along with the acceptance of varied cultures which have now become a permanent member of the city of Pune.
Ganpati in decorated environments:
Ganpati brings with him joy and pleasure, smiles and sweets, music and commemoration
Decorative lighting, themed pandals and fragrance of flowers
Traditional Indian classical music, Vedic chants and recorded prayer songs as well
Beautiful Decorations for Ganpati at home brings generations together; they not just share Ganpati decoration ideas but share laughs and hugs too.
The Pompous Pandals:
Pune plays host to a lot many beautiful pandals every year, some of them being the ideology of mandals, which date back to early 19th century. These grandiose pandals are flocked by millions and trillions of people during these 10 days, attracting people with varied and innovate themes, splendid lighting, delicious modaks and not to forget the beautifully dressed up and decorated Ganpati idols.
Some of Pune's Pompous pandals are:
Kasba Ganpati (http://www.kasbaganpati.org/)
Tambdi Jogeshwari
Dagdusheth Ganpati (http://dagdushethganpati.com/)
Kesariwada Ganpati
Tulsi Baug Ganpati and many more
Although all these pandals have a common aim of celebrating Sarvajanik Ganeshotsav, they differ in their Ganpati decoration ideas and the chosen themes for that year. These mandals also compete for getting the best pandal prize every year, giving rise to more quintessence on innovative ideas.
Shri Kasba Ganpati Sarvajanik Ganeshotsav Mandal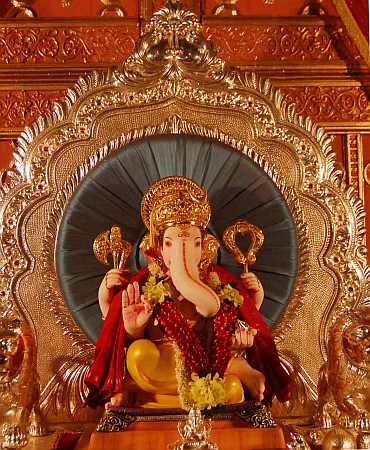 Source: http://blog.chaukhat.com/2009/11/dagdusheth-ganpati.html
If you enjoyed reading the article, please leave a line of comment.
Ganpati.TV Team
The team works hard to provide you useful information. Team also manages all content submitted by our users. If you like, please take a minute to share it on Social Networks.
---
---