Lalbaugcha Raja Live Visarjan 2017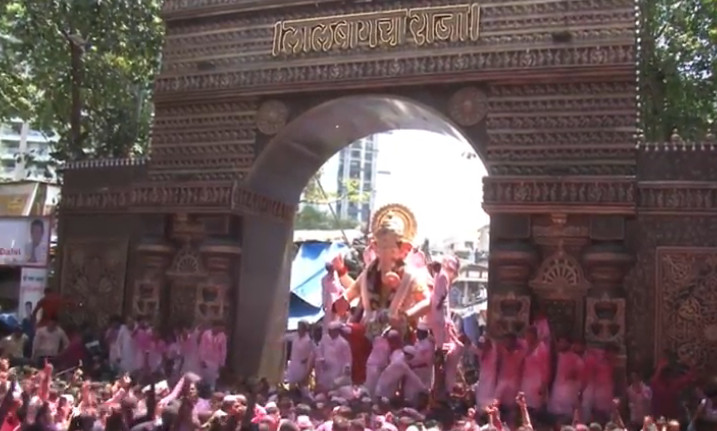 ---
---
Ganesha is ready to leave for year 2017, but he will for sure be welcomed next year with equal enthusiasm, love and joy.
Anant Chaturdashi last and biggest day of Ganesh Visarjan marks an end to Mumbai's favorite festival Ganesh Chaturthi. This is the day when all the idols are immersed in water. It is said that almost 1,50,000 idols are immersed on that day in the Arabian Sea that envelops the island city (Mumbai).

Lalbaugcha Raja Live Visarjan 2017 Playing Now below
Source: Loksatta – One of India's largest Marathi Newspapers, brings to you a 24-hour live telecast of the Ganesh immersion 2017.

While Mumbaikars are all eager to see off their favorite elephant-headed diety, the procession of the most popular Ganesha idol — Lalbaugcha Raja year 2017 is an event by itself. Lakhs of Mumbaikars come out on road to wish a tearful adieu to Lalbaugcha Raja. Some people follow Raja on his immersion route from the starting point (the pandal) to the immersion spot (beach). It takes them hours of walking amongst thousands of people to complete the journey.
Raja is sent off in a big procession with thousands of people chanting "Ganpati Bappa Morya! Pudhchya Varshi Laukar Ya!". There are hundreds of police to manage law and order during the visarjan and to direct the flow of people and vehicles. Every resident whose house Raja passes during visarjan, are eagerly waiting at their windows to get a glimpse of him. Some of them shower him with flowers and garlands from their rooftops. The atmosphere is electric, colorful, noisy, wild, crazy and fun. As the idol proceeds ahead, the organizers shower the crowds of devotees with garlands and sweets (prasad) as blessings of the Lalbaugcha Raja. Their expression of sheer bliss on catching hold of these is a sight to be seen to be believed.
It is an unwritten rule that the visarjan proceedings in Mumbai end with the immersion of the Lalbaugcha Raja 2017. At around 5 am on the morning following the visarjan day, after a procession that lasts over 12 hours, the Lalbaug cha Raja is sent to sea.
Ganesha is ready to leave for year 2017, but he will for sure be welcomed next year with equal enthusiasm, love and joy.
A bit about Loksatta – is one of the most widely read Marathi daily newspapers in Maharashtra, India. We devotees are thankful to Loksatta for bringing our Bappa close to us. Isn't this Vighnaharta watching over us all the time irrespective of whether we visit him at Lalbaug or not? Isn't this Lord of all Ganas fulfilling all our wishes all the time irrespective of whether I touch his feet or not at Lalbaug? I just need to keep this Lalbaugcha Raja in my heart and he then performs all his miracles.
Ganpati.TV Team
The team works hard to provide you useful information. Team also manages all content submitted by our users. If you like, please take a minute to share it on Social Networks.
---
---
[/signinlocker]