Importance of Ganesh Aarti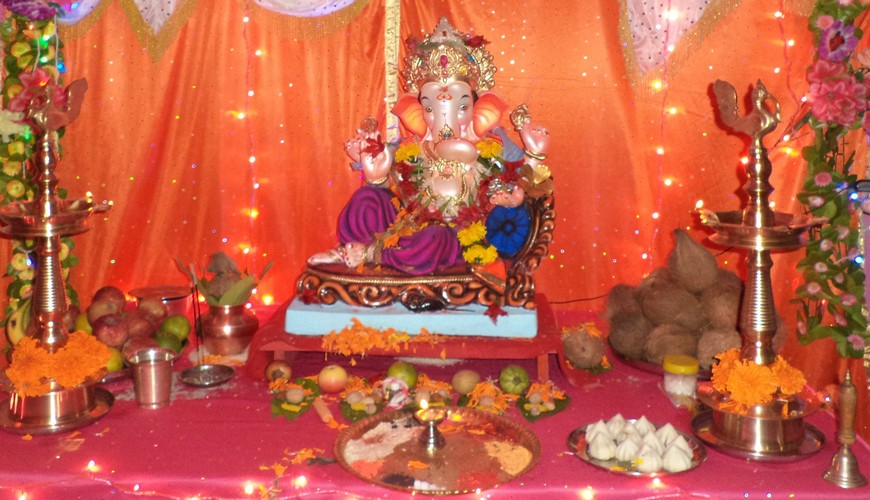 ---
---
Lord Ganpati, the elder son of Lord Shiva and Goddess Parvati and brother of Kartikey, has since time immemorial been bringing lots of luck and fortune to the lives of his devotees. Before the beginning of any important venture or travel, Hindus worldwide raise their hands in prayer to Ganesha for his blessings.

Importance of Ganesh Aarti (Ganpati Aarti and Mantra)
Ganesh Chaturthi, one of the most popular Hindu festivals is celebrated every year ranging over a span of 10 days as a mark of celebrating the birthday of Lord Ganpati.
Praise the Lord:
During these 10 days, Ganpati decoration is at full swing everywhere prominently in the states of Maharashtra and Andhra Pradesh. Prayers and Ganesh Aartis fill the air with their melodious hymns and deep rooted essence of worshipping the lord with complete altruism. People mellifluously welcome the lord on the first day by installing or erecting beautiful Ganpati idols at their homes, which may range from ¾ of an inch to around 70 feet in various pandals.
Ganesh Aarti also hold a special preeminence not just during the period of Ganesh Chaturthi, but all the year long, every time, when we pray to lord to bestow peace, prosperity and happiness so that all the tasks we intend to do must take a relevant course and bring reasonably well returns. Ganpati is symbolic to savior who takes away misfortunes.
Prominent Ganpati Aartis in India:
1. In the Siddhivinayak temple of Mumbai, Ganpati is hailed upon by:
Sukhkarta Dukhharta Varta Vighnachi || Nurvi Purvi Prem Krupa Jayachi ||
Sarvangi Sundar Uti Shendurachi || Kanti Jhalke Mal Mukataphalaanchi.
2. The most popular Ganpati Aarti followed in North India being:
Jai Ganesh Jai Ganesh Jai Ganesh Deva || Mata Jaaki Parvati Pita Mahadeva
Laddooan ka bhog lage aur chade meva || Jai Ganesh jai Ganesh jai Ganesh Deva.
3. Another famous devotional song for Ganpati being:
Ganapati bappa moraya agale baras tu juldi aa || mere mann mandir mein tu bhagwaan rahein || mere dukh se tum kaise anjaan rahe || mere ghar mein kitane din mehmaan rahe mere dukh se tum kaise anjaan rahe.
4. Famous Ganpati Aarti sung in the central regions of India being:
Om gan ganapateye namo namah || Shri siddhi vinaayak namo namah,
Ast vinaayak namo namah,||Ganpati bappa morya….!
5. In the Sanskari city Vadodara and many places of Maharashtra, Ganesh is called upon by his devotees by the Aarti:
Jai Dev Dev Jai Shri Ganaraj Vidhyasukhdata || Dhanya Tumara Darshan Mera Man Ramata || Shendur Lal Chadhayo Achchha Gajmukhko || Dondil Lal Biraje Sut Gauriharko
Rituals, Celebrations and Traditions:
• Ganpati decorations at home or in various mandapas is done with full enthusiasm and devotion.
• Chanting of mantras by priests and family members
• Although there are many ways in which people pay their tribute to Ganpati, but offering coconut, jaggery and modakas being the prominent ones along with red flowers.
• Statues are anointed with sandalwood and kumkum
• Ganesh aartis and chants from Rig Veda, various Upanishads and Puranas are sung with heartfelt devotion.
The Good-Bye:
After being worshipped for 10 days, the euphoria closes with much fanfare and celebration, singing, dancing and the likes accompanied by Vedic chants when idols are immersed in a river or ending the grandiose celebration.
Ganpati.TV Team
The team works hard to provide you useful information. Team also manages all content submitted by our users. If you like, please take a minute to share it on Social Networks.
---
---
[/signinlocker]