Ganpati Decorations and the Decked up Pandals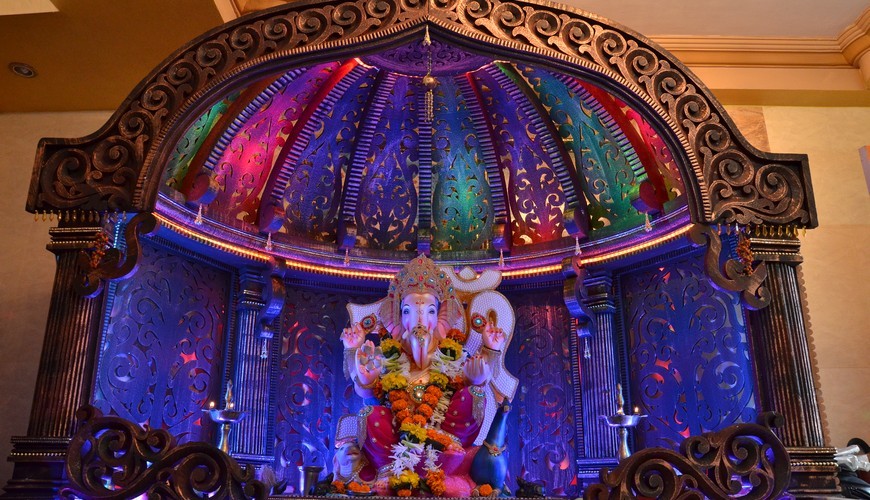 ---
---
With Ganpati festivities on and in full swing, Ganpati Decoration at home is the notable thing keeping the family members bound together with orison, love and mutual engagement. Ganpati though celebrated across the length and breadth of India by all Hindus, is exuberantly celebrated in the state of Maharashtra, where the zest and spirit is un-matched.

Festivities and colorful pursuits for Ganpati:
With all the amazing ganpati decorations at home, the state of Maharashtra and prominently Mumabi city hosts a great many Ganpati pandals, organized by prominent mandals. Lakhs of people throng these pandals which are beautifully decorated with unique ganpati decoration ideas and act as meeting places for families and friends, who visit these pandals together and enjoy in the warmth of love and affection. Since long these mandals have also been contesting for their pandals to be declared the year's best one in terms of Lord Ganesha's statue, decorations, number of people the pandal attracted and more.
Famous Mumbai Pandals:
In the city of Mumbai, Lalbaugcha Raja is amongst the biggest and most prominent pandal in the Lalbaug area, where one of the most beautiful and biggest of Ganpati idol is kept for public display and offering for these 10 days. This pandal alone attracts around 1.5 million people per year during these days.
The Mumbaicha Raja in Ganesh Galli being the other prominent one and is very well known for its lavish themes based on a famous place in India.
Khetwadi Ganraj also being amongst the most prominent and spectacular Ganesh idol holding pandal in Mumabi city. The idol is mostly decked up in pure gold jewelry and sometimes diamond jewelry too.
The festival spans 10 days and idols are immersed in nearby rivers on the 11th day of Anant Chaturdashi, when people pray to Lord Ganesh to come back again next year with happiness and prosperity.
Ganpati.TV Team
The team works hard to provide you useful information. Team also manages all content submitted by our users. If you like, please take a minute to share it on Social Networks.
---
---