Ganesh Chaturthi Meets Pokemon Go this Year!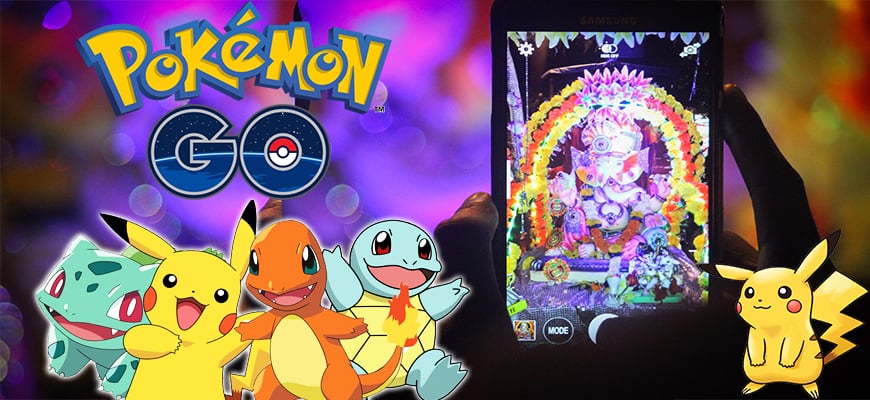 ---
---
This year, Ganesh Chaturthi is just a few days away and that leaves you with very less time to think of a new theme. You have already done and dusted few themes so many times that you have lost count. That straw hut concept was fine last year, and the year before that you had done the theme of recreating a scene of a park in your home for Lord Vigna Vinayaka!
But this year, if your son, daughter or niece or any other person in the family is spending a way too much time in playing the Pokemon Go in his Android or iPhone, then why not recreate Pokemon Go for the theme?

"Gottacatch'em all" fever:
This fever or craze of Pokemon Go has become universal and you cannot ignore it. So try to make a mandap in your home for your Ganpati Bappa in the theme of Pokemon Go!
One idea that comes to mind is to have a huge cardboard cut in the shape of Pokeball and have it in the background leaning on the wall. Paint it red and white and have the Aasan of Bappa in front of it. If you can, then try to make small Pokemon creatures using play-doh or else, just take print out and stick them like miniature cut outs near Bappa on the floor ahead of His Aasan. This is the easiest and the least troubling ways to have Ganesha in your home.
Do take big poster sized print outs of these cute Pokemons like Pikachu, Jigglypuff, Charmander, Bulbasaur and Meowth which can stand around the mandap on support. This theme is sure to click with children and game-crazy, Pokemon Go-loving adults alike.
What more to ask for?
If you are willing to go ahead with the theme, then try to make red and white colored laddoos as Prasad to make them look like Pokeballs.
You might even take small plastic ping-pong balls, paint them red and white with a black strip in between, and string them down the ceiling like a toran.
You can eve place random Pokemon creatures made in paper and begin a Pokemon Go live in your home to engage the children or adults. Such games are enjoyable in the evening when the children and adults are tired after the celebration and Puja in the house on the occasion of Ganesh Chaturthi.
So, now that you have got your idea of decorating and going ahead on the theme of Pokemon Go this year, Google for images, shop for the stationery and make your own Pokemon playground in your home for Bappa this year! After all, even Ganesha loves to play with children!
Image Source: Click Here
Pokemon Go and others are trademarks of their respective companies.
Ganpati.TV Team
The team works hard to provide you useful information. Team also manages all content submitted by our users. If you like, please take a minute to share it on Social Networks.
---
---