Day one: Darshan of majestic Lalbaugcha raja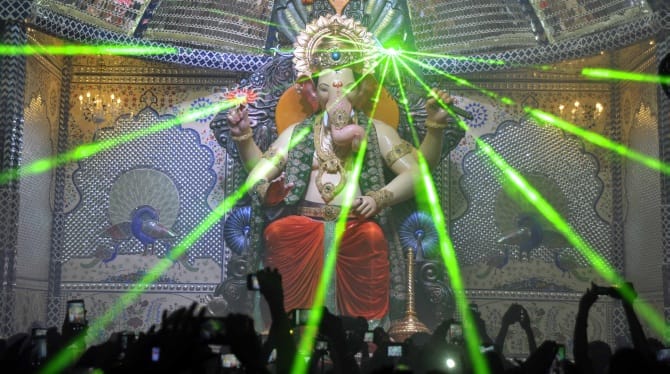 ---
---
Every year Mumbai witnesses great vigour and enthusiasm while celebrating Ganesh Chaturthi. Discussion on Mumbai and its favourite festival Ganesh Chaturthi is incomplete without mentioning Lalbaugcha Raja. Founded eight decades ago, devotees throng to get a glimpse of the Vighnaharta. Witnessing a darshan queue as long as 3-4 km is not unusual. It is believed that by praying to the Lalbaugcha Raja, one's wishes will be fulfilled.

My two friends and I decided to make this special journey to seek the blessings of Lalbaugcha Raja this year on the very first day of the 10-day festival. We started from Goregaon at 3 am and soon reached Ganesh Galli at Lalbaug, Lower Parel. All roads seemed to be leading up to this Ganesha, and everyone seemed to be heading in one single direction, with one common aspiration. We decided to just follow the general direction of the crowd.
We joined the Mukh darshan queue (one where we get to see the god from a distance but not touch his feet) at 4.30 am. I was astonished to see the crowd gathered. The crowd itself was a potpourri of all age groups. Right from infants sleeping in their mother's arms, toddlers eating candy, teenagers with all their friends, married men and women, to grandfathers and grandmothers – all moving in a queue towards His Majesty. Rich and poor, young and old, able and disabled – all were there to seek blessings of this "Obstacle Removing Lord".
The area was brightly lit up with sparkling lights. It reminded me of a mela (fair) that I used to visit when I was a child. A wide variety of things were sold – photos of Lalbaugcha Raja, puja thali comprising of flowers and coconut to offer to the god, numerous food items for hungry devotees like idlis, vada pav, samosas, chips, cold drinks, ice creams, modaks and last but not the least Mumbai's own and special invention, the "cutting chai". All these were open (and doing roaring business) even at the unearthly hour of 4:00am. The Pandal is open 24*7 on all Ganpati days, which doesn't surprise me one bit since Mumbai is literally a city that never sleeps.
We were very fortunate that the queue moved very fast. People kept chanting "Ganpati Bappa Moriya", "Undir Mama Ki Jai"and we too joined the frenzy. We were all united in our mission and I felt a sense of camaraderie with my fellow devotees. They no longer felt like strangers or some faceless crowd and were now my buddies traveling together to keep a holy and joyous appointment.
We finally got the darshan at 7:45 am and it was overwhelming. Darshan was not very far from the idol and it was just thrilling and mesmerizing. Now I am at a loss of words to describe my feelings. All I knew is that my heart just melted and somehow everything else was forgotten. I felt it was just Him and me talking to each other without any words. At the next shove by the crowd, I realized it was my time to leave and time for others to occupy my space. Just in time I remembered my husband's words to click a picture on my mobile of the revered Lalbaugcha Raja. I hurried with my Android, knowing I have just a few precious seconds to complete my job. And yes, I managed to freeze a memory of my experience on my mobile to share it back home.
A year shall pass by and Ganesh Chaturthi shall come again and I too shall be back at Lalbaugcha Raja to seek his blessings. Next year shall be a new darshan with new people and a new memory will be created in my life. "Ganpati Bappa Moriya"
By Shivani Parikh (Ganpati.TV Team)
Ganpati.TV Team
The team works hard to provide you useful information. Team also manages all content submitted by our users. If you like, please take a minute to share it on Social Networks.
---
---