Beauty of Ganesh Decorations at Home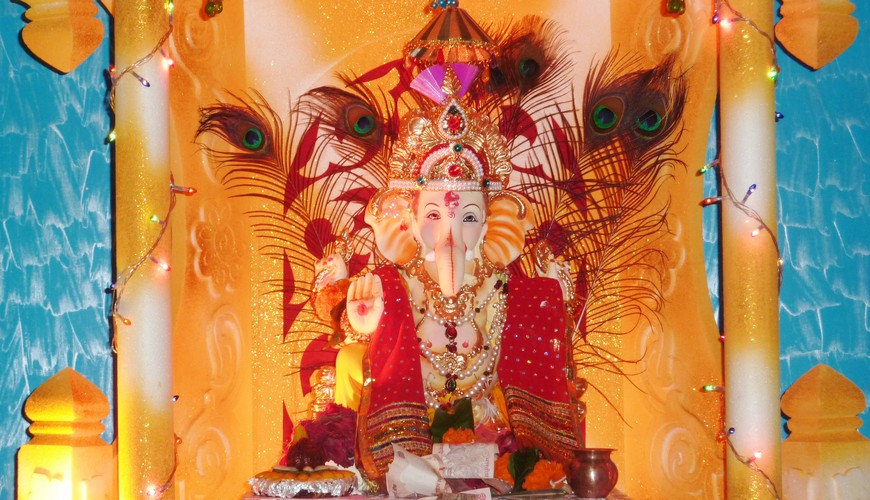 ---
---
On the occasion of the birth Day of Lord Ganesha special arrangements are made in order to celebrate the Ganesh festival with full enthusiasm. Especially in Mumbai you find that people have exceptional interest for Ganesh decorations. This auspicious festival is popularly known as Ganesh Chaturthi.

In states like Maharashtra, the decoration for Ganpati at home is given lot of importance. It is a firm belief of Ganesha's devotees that home decorations for Ganpati brings prosperity and good luck to one's life. Bringing Lord Ganesha's idol at home is surely a great welcome for good luck and good health.
By making use of unique ideas for Ganpati decorations you can welcome Lord Ganesha traditionally and also please him with beautifully decorated temples or pandals. Following are some of the ways to highlight decorations ideas:
1. Ganesh Chaturthi Pandals:
Fascinating Pandals for Ganesha are the first step for the Ganesh Chaturthi decorations. These are basically the temporary built ups that people do for God to venerate him in an idealistic holy way. These can be made attractive by decoration items like Bandanwars, Chunnat Tents and Chunnis etc.
2. Ornamentation and embellishment of Lord Ganesha's Idols
The idols of Ganpati are available in abundance all around the market especially at home decoration shops. These are available in different shapes and sizes. The price varies according to the different shapes and efforts on the Ganpati idols. As you visit the home decoration shops in Mumbai, you will find appealing idols of Lord Ganesha beautifully created. These beautiful idols will give you a positive energy and fill your home with happiness. The material used in them varies. For instance you can find a fine use of crystal, clay, stones and even by valuable material like gold, silver and diamond. The most preferred one amongst people for Ganesh Chaturthi are the one made up of clay. These are beautifully painted with bright colors and decorated with real or imitation ornaments and cloths.
3. Wall Hangings
For the propitious occasion, wall hangings also available in the market that have Lord Ganesha pictures and paintings. These hangings are very beautiful and come under variable shapes and sizes. Further these hangings are decorated with lights and musical instruments too. These lights with soft playing spiritual music give a lot of mental peace to one's soul and fill your home with a positive energy.
4. Rangoli making
Rangoli is an artistic Indian style of floor paintings that are used to decorate the homes on festivals. By Rangoli making various attractive and spiritual designs are made at the entrance of one's home. These may be varied in materials like flowers, colors, rice etc.
So implement these beautiful Ganesh decoration ideas and let God sprinkle the blessings on you to make your life happy and prosperous.
Ganpati.TV Team
The team works hard to provide you useful information. Team also manages all content submitted by our users. If you like, please take a minute to share it on Social Networks.
---
---