The Ugly Truth, The Day after Ganesh Visarjan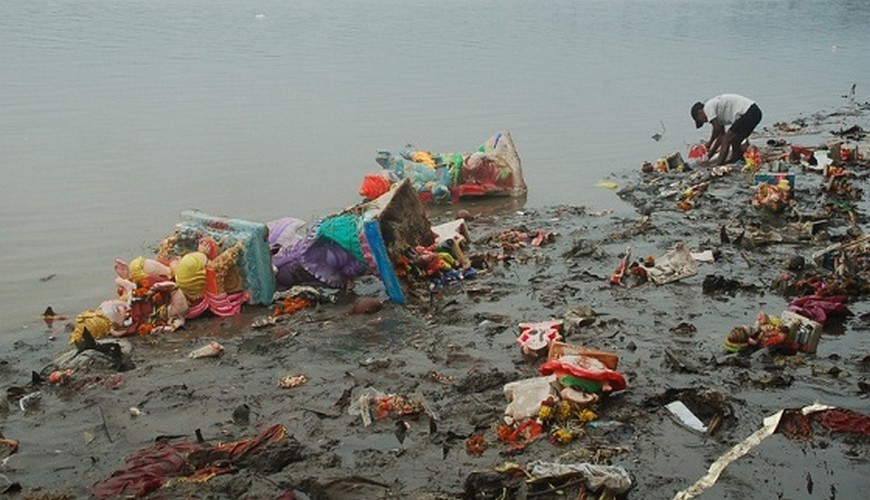 ---
---
The last day when you take your Ganpati to immerse Him in the seashore, with a heavy heart, do you realize the damage this immersion can cause? Well, I am not simply talking about the disappointment the parting Ganesh does to our heartstrings only, but also to the environment in general. Let us see how.

A look at the evolution of Ganesh idols:
As we look back at the beginning of the tradition of celebrating Ganesh Chaturthi, we learn that the first idols for this day were made from the wet clay from the local rivers and lakes. The day after Chaturthi celebrations, these idols were immersed in the same lake. Now, times have changed and so have the styles of preparation. Local clubs and communities started hosting mass pujas to commemorate Ganesh festival. Today, since there is competitive nature amongst all these local clubs to make the best of the idols and win awards, the old concept of clay idols started vanishing. The artisans of the recent times who make Ganesh idols use Plaster of Paris and other toxic bright colors, which are very harmful and make the waters toxic and inconsumable for a long time.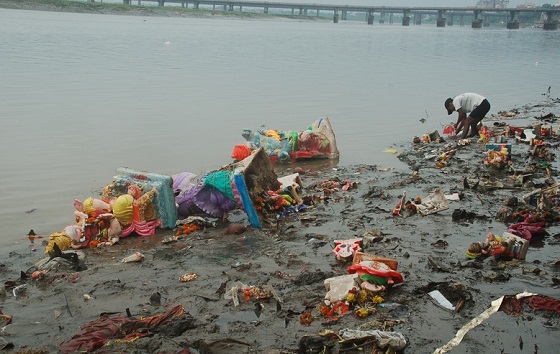 How do these idols harm sea water?
Now, this is what the environmentalists claim with substantial proof to support that the Ganesh idols, which are immersed in the sea, the reason being that the colors are hard, the use of several non-recyclable materials like thermocols and other such material used to make the ornaments for the image too. These materials float, litter and rot in the sun. That is why eco-friendly Ganesh has become the mantra of environmental-friendly people these days. To control the menace, government these days have laid down stringent rules to ensure the next time Ganesh protects the environment as well and let us breathe fresh air of the sea.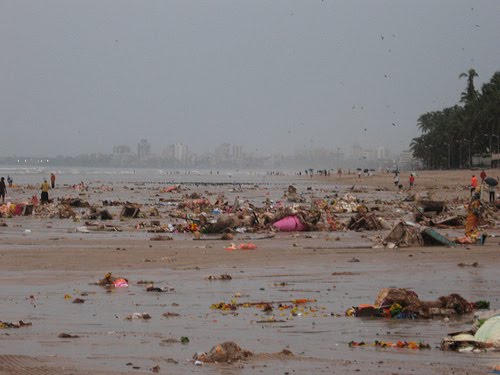 Things we can do to prevent harm to environment and Mother Nature:
We can follow few simple steps and ways to minimize the damage to our environment.
1. Before the Ganpati Idol is immersed in water, please make sure all the decorations are taken out. This includes thermocols, ornaments, plastic frames, artificial flower garland, ribbons or glittered garlands, and any such decorating items which cannot get dissolved in the water.
2. We can get Ganesh Idols made out of clay like good old days. There are many groups and organizations and shops that make Idols which are eco-friendly made from material which can be dissolved in water without harming the nature. Colors used for such Idols are also natural colors which do not have toxic materials in it. Plaster of Paris (POP) materials should be avoided or minimized.
3. If eco-friendly Ganesh Idols are used, then they can be immersed in water tanks or small lakes or ponds which do not harm the nature.
4. Dancing and singing is important part of Ganesh Chaturthi festival at time of immersion (Visarjan). However, loud music can also harm the nature with noise pollution. Now-a-days instead of traditional dhols and drums, people have started using loud and high decibels Hi-Fi sound system similar to systems used in dance clubs, discos or pubs. This system contains 10 to 20 huge speakers being played by DJ. This should be in a controlled manner so that it does not harm to ears of people watching the immersion process nearby.
The above points highlights the ways we can save our nature and minimize global warming. Hope they are followed by each and every one of us as a duty and more importantly as an effort to save our mother nature.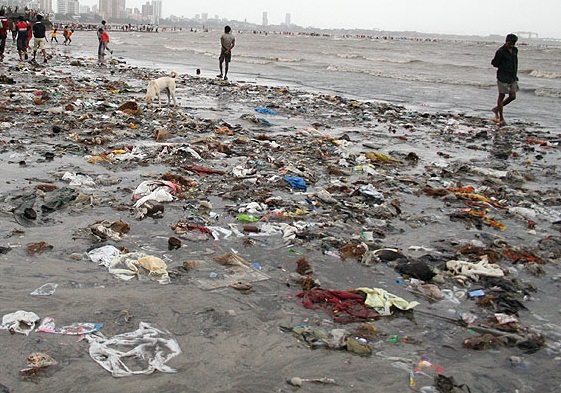 Ganpati.TV Team
The team works hard to provide you useful information. Team also manages all content submitted by our users. If you like, please take a minute to share it on Social Networks.
---
---