Ganesh Visarjan Day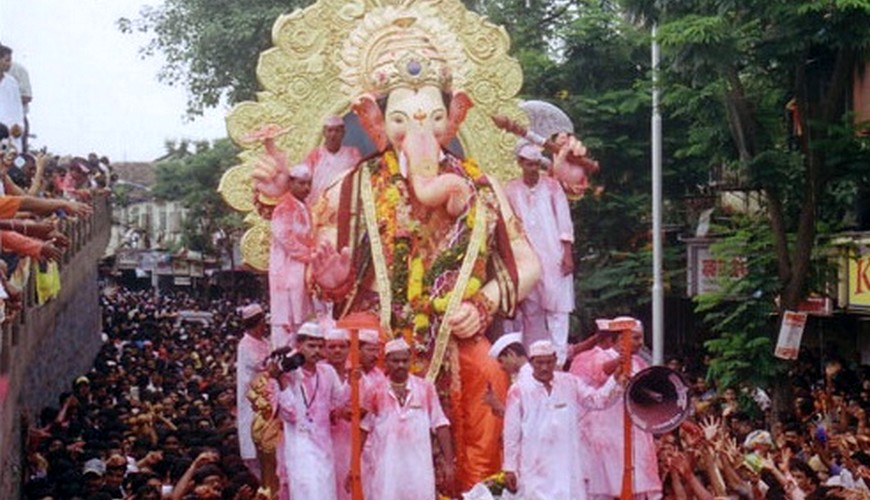 ---
---
Lord Ganesha, the son of Lord Shiva and Parvati has always been widely worshipped before the beginning of any new venture. Lord Ganesha bestows us human mortals with wisdom to lead our lives wisely and for prosperity so that we always have abundance of wealth and good health and with good fortune.

The Legend Behind:
Ganesh Chaturthi is a Hindu Festival marked as a celebration in the honor of this mighty lord on the occasion of his birthday and it is firmly believed that he surely bestows his presence on Earth for all his devotees during this 10 day long festival. The festival though celebrated by all Hindus, is most elaborately celebrated in the states of Maharashtra, Andhra Pradesh, Karnataka and Goa.
Spirit and festivities of Ganpati:
Festival starts with Ganpati decorations and installation of Ganapati idols at individual homes, shops, locality pandals etc. These decorations for ganpati comprise of lightings along with floral decorations and festive music as the back drop.
Everybody enjoys a lot as these festivities bring all the people busy in their lives close to each other. Adults and children take part in the same spirits for ganesh decoration at home. They share amongst them ganpati decoration ideas and work together to implement them.
Family members, society neighbors all gear up to prepare the main sweet dish for the occasion, the modak, which is made from rice/wheat flour with a stuffing of dry fruits, jaggery and grated coconut and offered to lord ganesha.
Final Goodbye:
On the eleventh day of this period, Ganpati idol is taken with much fanfare, singing and dancing to be immersed in the river, symbolizing Lord Ganesha taking away along with him misfortunes and bad luck of all his devotees, with a promise to come again next year with fortune and prosperity.
Ganpati.TV Team
The team works hard to provide you useful information. Team also manages all content submitted by our users. If you like, please take a minute to share it on Social Networks.
---
---