Lord Ganesha or Vighna Vinayaka is the all-prevailing God of Prosperity and Happiness. Perhaps, this is why He is worshipped and loved by one and all in the country. He is revered in Maharashtra and especially in Mumbai where the Ganesh utsav is the biggest and the most important festival.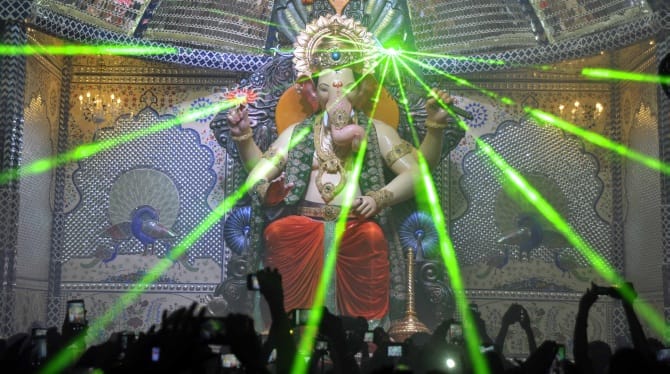 The elephant God is one of the favorite Gods and the entire city has been celebrating this festival since the time Bal Gangadhar Tilak had started celebrating the birthday of this beloved Ganesha in 1893, though the festival used to be celebrated even before that.
Ganesh Chaturthi preparations in Mumbai:
Mumbai is known for grand-scale community Ganesh Chaturthi Puja. This means that few months before the Bhadrapada Shudha Chaturthi day, the preparations begin. The festival is one of the most auspicious festivals and people begin collecting subscriptions from local inhabitants for the construction of the pandals or makeshift structures. The idols are of towering heights and are placed here for ten days.
Ganesh Chaturthi 2016 celebrations in Mumbai is not just limited to Community celebrations alone. Rather, the puja is performed in homes even with great joy. Most popular Ganesh Chaturthi puja pandals and mandals in Mumbai are constructed in Lalbaug, Ganesh Galli, Andheri Cha Raja, Tilak Nagar, Girgaum, and even in South Mumbai. After the ten-day long festivities, the immersion of the Lord Ganesha idols in the sea is a sight to behold.
---